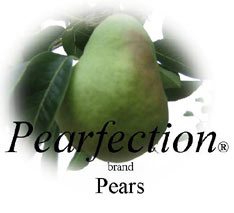 Buy Pears Online
Omega Farm is a WSDA Certified Organic pear orchard located in Ridgefield, Washington.We take great pride in producing only the highest quality bartlett pears. We fondly call them pearfection® and would love to share them with you!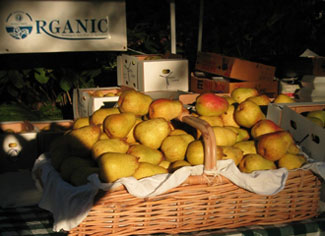 Visit our online store to buy pears online
Call (360) 573-0422 to purchase our new gift boxes!
We are open in season for on the farm sales by the box or by the pound, just a short drive from Portland, OR. Click here for directions.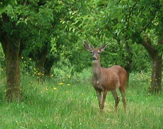 Greetings from Omega Farm!
Summer is flying by here in the orchard. As I look around I see many other trees just like me loaded with fine looking pears. We are having an occasional visitor here in the orchard. It was a little concerned at first but so far Mr. Deer has only been doing a little nibbling on my lower branches and I can still grow my leaves right back. So far Pear guy has done a good job of applying my organic sprays to keep the bad guys at bay but I have to stay after him. I've got a great looking crop. But already I am looking foreward to the middle of August when my branches are unloaded and those great pears are tucked safely into cold storage waiting for you.
Well, that is about all I have to report for now. We will be busy soaking up the water and sunshine in anticipation of harvesting a fine crop of pearfect pears for you. See you in September.